Hi all!
I'm a netbook (Acer 531h) user and I'm writing here to share an idea that came in my mind in the last days.
I've installed, for fun, The Mana World. TMW is a beta MMORPG that comes windowed with a fixed resolution of 800x600 (no resizable window). Unfortunately the screen of my netbook is 1200x600, so every time i had to alt+click and drag the window up a little, hiding the titlebar offscreen above.
I thought that since those netbooks have a limited vertical resolution, but higher horizontal resolution, we should make good use of the horizontal space. I already have vertical bars, as you can see in the pic, and i find myself very well with those (and they look cool, lol!)
I've took a printscreen and gimp-ed it to see how it could look... here you are the results:
from this...

...to this!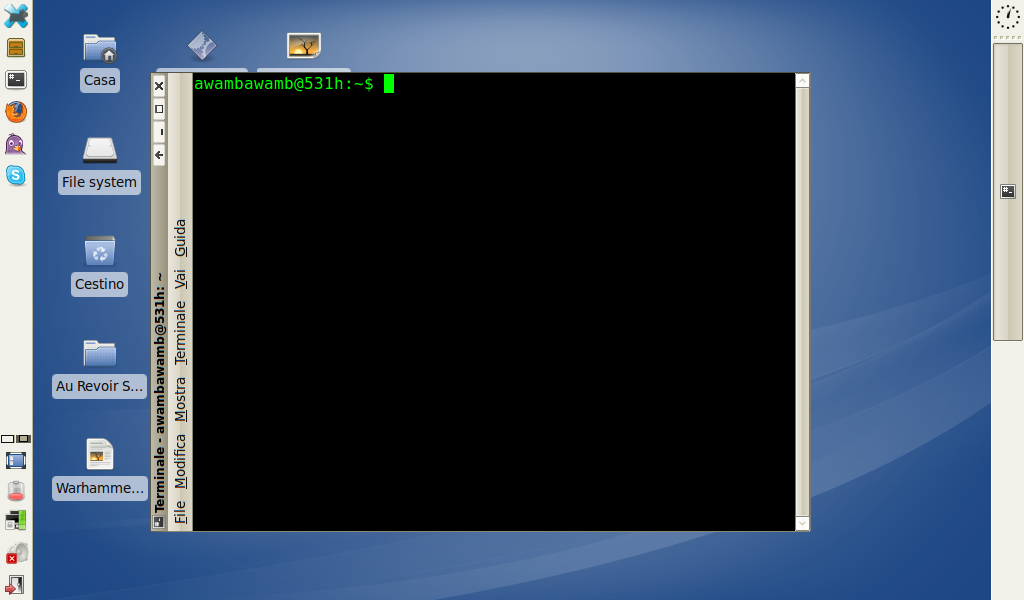 readability is ok i think, or at least isn'a problem for me (i can read a lot of alphabets, maybe that's why).
now it comes the bad part... the code.
I'm not really a code guru, so i couldn't figure how to place the titlebar on the side. Googling, i've found something but wasn't so explanatory. I learnt that tose titlebars can be seen in Enlightenment, but i would like to use Xfce as it's the "best choice" for my linux distro, KuKi.
Any suggestions to realize my idea? Do you think it could be possible and worth coding it? I'm interested in it first because i'd really like it, and then because it could became part of my dissertation, to explain the adaptivity of OS systems to the user's needs.
Thanks in advance for the help!
Max