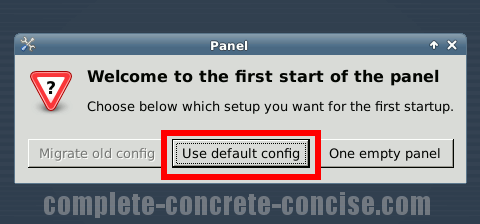 How do I PREVENT this popup from happening?
All I care about is preventing that popup so it does not visibly block the rest of the gui, give me every method you can think of.
I have the system automatically boot up into clonezilla but this welcome panel pops up upon login right in the way of it.
Part of my limitation is I am limited to fixing the problem via editing the filesystem through the terminal as the CZ live cd makes use of a squashfs filesystem that it unpacks on-the-fly of which includes the xfce desktop and xfce panel, boots into the desktop and loads the panel.
So again, any method to prevent this popup is what I am looking for.
List as many ways as you can think of as I have spent at least 2 days googling and experimenting to try to eliminate the popup window and to no avail.
Thanks.