Hello all,
I'm running Xfce 4 (4.6.2) on an Asus eee PC 901 netbook.  The OS is Debian Squeeze (stable).
I just installed "xfce4-sensors-plugin" (the xfce desktop rocks on the little 901, btw!).
Now, whenever the desktop initializes (e.g., at the end of the boot process), or if I double click on the xfce4-sensors-plugin icon on the panel, I get two notification windows, each titled "Hddtemp Information", the first informing me that:
An error occurred when executing "/usr/sbin/hddtemp -n -q /dev/sdb":
Failed to execute child process "usr/sbin/hddtemp" (No such file or directory)
The second message is almost the same, the only difference being that it squawks about the sda drive (instead of the sdb drive).
Here is a screenshot (taken just after double-clicking the aforementioned icon):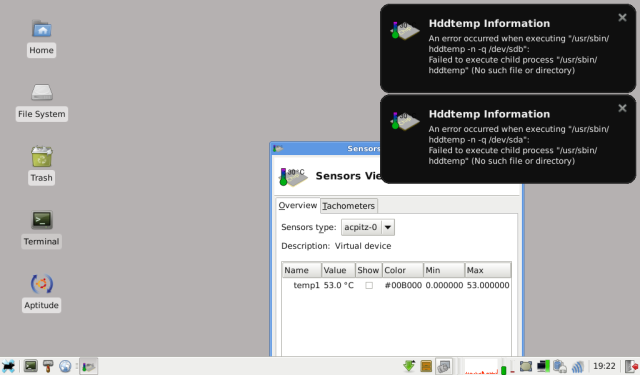 Now, here's the rub:  My 901 has a relatively spartan load and the "hddtemp" package has never been loaded.  Here is a look at the "Sensors Plugin" window:
Perhaps related: My desktop (same OS and desktop as the 901) exhibits the same behavior.  However, I DO have hddtemp loaded on the desktop.  I am not, however, using xfce4-sensors-plugin to track my HDD temperature.  Instead, I do so using the "Generic Monitor" (xfce4-genmon-plugin).
Is there anything I can do about this annoying problem?
TIA!
Last edited by Digger (2012-04-28 02:14:33)
---
Xfce 4.6.2; Debian Squeeze