I don't see the icons of my NextCloud and OwnCloud clients in my systray.
See this image for a first illustration and some details about the environment.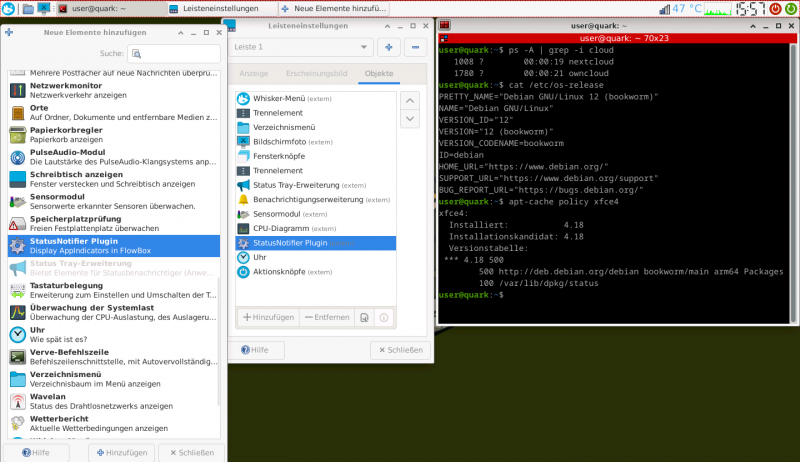 In the terminal window you see that own- and nextcloud clients are still running in the system. The rest of the terminal you see version information about Debian 12 and XFCE.
In the upper right you see the systray with a clock, button to reboot and shutdown, etc.
There is also an invisible (empty) "StatusNotifier Plugin" in that systray. You can see that in the taskbar settings dialog (second from left). I would expect that own/nextlcoud would appear there.
I know there is an "alternative" to the statusnotifier plugin. Here in the screenshot you can see it in the window left grayed out (disabled) with its German name "Status Tray-Erweiterung" (English maybe: status tray extension). But it is disabled.
I don't care which extension or plugin I do use. But I need the icons in the systray to have status information about the cloud/nextcloud.
Any idea how to solve this?
EDIT: The StatusNotifier do have a Configuration dialog with two tabs "Order" and "Visibility" where entries should appear. But even this lists are empty. So it is not the case that there are just the icons missing.
Last edited by buhtz (2023-09-14 14:10:30)