Hello All,
I have a file type with an icon that displays differently on the Desktop to what it does in Thunar.
They are .trk files created either by the NNG software iGO8 or GPSBabel and they've had the standard WINE wineglass icon for as many years as I can remember.
Since upgrading MX Linux to 21.3, Thunar 4.18.3 this has changed.
On the Desktop it now displays the same as a .gpx file's icon.
It's not a problem in Thunar but is an issue when working from the Desktop as I would much prefer the icons to be different like they are in Thunar.
Searching the web hasn't come up with anything about this, though I'm not really sure what terms I should be searching for as I've never seen this issue before, don't want to mess anything up so thought I better ask.
Anyone know how I sort this so the icons display the same in Thunar and on the Desktop?
Thumbnails are disabled in Thunar and on the Desktop, I never have thumbnails enabled.
Pic below of how it shows correctly in Thunar on the right of the image, and the different icon on the Desktop on the left.
Thanks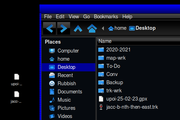 Last edited by JmaCWQ (2023-03-09 17:37:04)