Not terribly exciting, but I'm not ... not when it comes to my desktop anyway - as you'll probably guess, I'm a bit of a minimamalist (duh, I use XFCE).
For what it's worth though: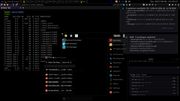 Full size image here
Everything I need to know about what's going on on my system is available at a glance, thanks to an excessive number of applets on the panel at he top. Everything I need to know about what's going on in my application is visible at a glance immediately below that. The content gets the lion's share of the available desktop real-estate (as it should do).
Thanks to ToZ, the pretty, blue '0' on the panel indicates I'm on the central workspace out of eleven and changes colour to red/green as I shift left/right respecively, with the number incrementing the further from the centre workspace I go, but even that's simply a pragmatic aide memoire rather than eyecandy as such (I know which of two workspaces with the same name I'm in by the colour)..
That's all there is to it, really; it's not very exciting, but my machine's a tool, not a toy, so I don't need more than that -  a bit of transparency (so I can read two things at once) but otherwise no bells, whistles or other distractions; no docks, no wharfs, no trays, no panels, no taskbars, no 'start' menus, no widgets or any other doodads;  I'm busy working on whatever I'm working on and that has my full attention, with the window(s) maximised and the titlebar hidden ... I swap between workspaces and applications with keyboard shortcuts/hotkeys, cursor between items to select things/options, avoiding the use of the mouse as much as is possible (I'm a keyboard warrior, me

).
Last edited by PseudAnonymous (2021-04-06 22:19:46)
---
Don't dance like nobody's watching, dance like a toddler instead - they don't even care if there's any music!